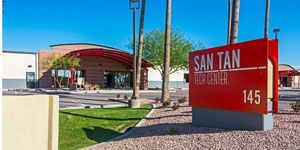 VIAWEST GROUP SELLS SAN TAN TECH FOR $22.75M TO HELD PROPERTIES, INC.
ViaWest announced the sale of San Tan Tech Center, located at 145 S. 79th Street in Chandler, Ariz. The 129,187 square-foot, Class A property was purchased by Southern California-based developer, owner and operator, Held Properties, Inc. for $22.75 million. This is the firm's third Arizona-based acquisition and the second deal they have completed with ViaWest Group.
Christopher Toci and Chad Littell of Cushman & Wakefield's Phoenix office along with Mark Gustin, Karsten Petersen and Dave Seeger of JLL in Phoenix orchestrated the sale of this Chandler Technology Corridor asset.
ViaWest acquired San Tan for $9.6 million in 2014, after which ownership made significant investments to enhance both the aesthetics and functionality of the asset making it a desirable solution for today's modern high-tech tenants. GrubHub, Amkor, HealthTell, and Arvato Digital Services are among the notable tenants evidencing the success of the renovation.
"It's always great to effectively execute on our business plan and add value for our investors. We are also excited that we were able to expand our relationship with Held Properties and continue to play a role in the future success of this great asset through providing property management services." says Danny Swancey of ViaWest Group. Chris Toci commented that "This asset had the trifecta of attributes attractive to investors. The combination of stable income from great tenants, high-residual value space, and potential future development opportunity generated considerable investor interest."
"We are thrilled to have acquired this property with an exceptional roster of strong tenants," said Robert D. Held, President CEO of Held Properties. "Since entering the Arizona market it has been our intent to add quality, distinctive real estate to our portfolio and San Tan Tech Center is exactly that."
Originally built in 1981 for Intel, San Tan Tech Center was recently transformed by ViaWest into a high-tech bioscience and creative office building. It is located between McClintock Drive and 79th Street less than one quarter mile south of Chandler Boulevard and one half mile north of the loop 202 freeway. The property offers many amenities, including easy access to numerous regional shopping centers, hotels and dining options. San Tan Tech Center is adjacent to the privately owned, public use Stellar Airpark. Additionally, Phoenix Sky Harbor International Airport is within 15 minutes of the property and two reliever airports – Chandler Municipal Airport and Phoenix-Mesa Gateway Airport – are within 7 and 10 miles each, respectively.
https://viawestgroup.com/wp-content/uploads/2018/05/San-Tan-Tech-Center-Photo.jpg
150
300
Mikele Keiffer
https://viawestgroup.com/wp-content/uploads/2019/01/VW_New_Logo.png
Mikele Keiffer
2018-12-13 20:01:38
2019-02-25 20:10:09
VIAWEST GROUP SELLS SAN TAN TECH FOR $22.75M TO HELD PROPERTIES, INC.